#alsweeklypoetrycontest306
𝗧𝗼𝗽𝗶𝗰 : 𝗪𝗶𝘁𝗵𝗲𝗿𝗲𝗱 𝗥𝗼𝘀𝗲
( 𝘼𝙣 𝘼𝙘𝙧𝙤𝙨𝙩𝙞𝙘 𝙋𝙤𝙚𝙢)
𝗪andering across myriad paths my strained soul still seeks thee,
𝗜ambs, trochees, anapests,dactyls…I pen as my beating heart whispers thy name,
𝗧eetering betwixt the past and present,
𝗛allucinating in a realm that's harbored in my mind,
𝗘cstatically I dance with thy image that looms,
𝗥edolent memories carry me far across…
𝗘ntranced, I dwell in the surreal sanctuary,
𝗗arling! Those rosy moments with thee will ne'er vanish.
𝗥aining tears still sing songs of our love,
𝗢ne more chance is all I ask,
𝗦adly, the silent sepulcher with roses withered,
𝗘manates thy muted dirges longing for me.
***
This poem written for the topic 'Withered Rose' by Adian Literary Society secured first place.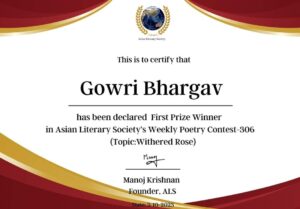 Picture Credit: Pixabay