#napowrimo2022 , #ArtoonsInnPoetryParlour,  #day28
***
If my days don't dawn,
And I turn into shadows,
Would you sieve me from the dark?
I would be the star,
Who always shines upon you,
Until you beam like the moon.
***
If I'm buried 'neath,
thick layers of frozen ice,
Would you still come and find me?
I would be your spring,
Thawing you with glisk mellow,
Until you blossom,my love.
***
If my heart forgets,
All the stories we've woven,
Would you bury them in vain?
I will rewind time,
Narrate every single one,
Until your heart echoes them.
***
If I fall asleep,
Never to see the sunrise,
Would you shed tears by my grave?
I'd become your dream,
And walk with you holding hands,
Always in the realm afar.
***
𝙏𝙝𝙞𝙨 𝙥𝙤𝙚𝙢 𝙝𝙖𝙨 𝙗𝙚𝙚𝙣 𝙬𝙧𝙞𝙩𝙩𝙚𝙣 𝙞𝙣 𝙎𝙀𝘿𝙊𝙆𝘼 𝙨𝙩𝙮𝙡𝙚.
Here are the sedoka guidelines:
Two three-line stanzas
5 syllables in the first line and 7 syllables in the second and third lines.
First stanza is a question by one lover
Second stanza is an answer by the other
So it's traditionally a love poem (and often a collaborative work).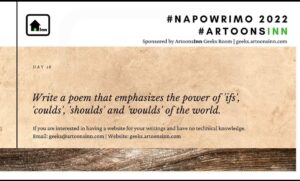 So it's traditionally a love poem (and often a collaborative work)