The kaleidoscopic sky tinged with shades of eventide looked mesmerizing. Waves ebbed and flowed with dulcet melodies. The balmy breeze teased my untamed hair as I sat digging my feet in the soft sand, gazing at the picturesque landscape. I had lost count of the number of times I'd visited my favorite vacation spot, Bahamas.
I came here to celebrate my fortieth birthday with two other girlfriends who were single just like me. Celebrate I did—by cutting a huge cake and blowing out candles. But after the celebration they'd ditched me, having hooked up with some random strangers. How could I blame them? Their sweet talk and svelte figures made them date worthy unlike shapeless me. Sadly, I thought and preferred to think more than talk. At work, I was always glued to my laptop and hardly got time to socialize. Also, I could barely lock my eyes even for a few moments with the other sex. And, my freckled, chubby face wasn't something I was proud of—my mornings started with a sad note if I happened to glance at the mirror.
***
After a while, I decided to head back to the beach villa we had rented. As I ambled along the shore, a ball hit me from behind. A few youngsters were playing beach volleyball at a distance. When I was about to throw the ball, a man who appeared to be in his late twenties came running towards me.
"Hey! Sorry about that. Did you get hurt?" He asked me in a baritone voice.
My heart skipped a beat. There was something about his voice. And for the next few seconds that he stood next to me, I froze. Six-foot tall, well-sculpted arms, perfect abs, and add to it some sprinkled wet sand stuck to his bare torso—breathtakingly handsome.
"Ma'am, hello! Do you hear me?" He gently tapped my shoulder.
"Yes…I'm fine." I stammered trying to avoid his eyes.
"You seem overdressed for a beach. Don't you feel hot?" he asked with raised eyebrows.
I just smiled. How could I tell him it was to shelter all the loose skin and sundry? I became even more conscious as his eyes trailed across my generous curves hidden underneath the cardigan.
"Anyone with you or you alone?"
"Friends," I replied. Why is he bothered? Too many questions.
"Where are they?"
"Oh…they are held up… somewhere." I just hoped he'd stop asking questions.
He threw the ball he was holding to his friends and continued.
"I see. I am Jared. My cruise ship is docked here tonight. I'm here with my friends. Love this place."
"Hmm! Great."
"That's it? Don't you want to introduce yourself, Ms. Monosyllables?" His piercing look made me uncomfortable.
"I'm April."
"Now. Why are you so uptight? I can assure you I have no criminal records. Come on, talk, April. Or do you prefer, Ma'am?" He chuckled.
"Call me April. Yes, I love this place."
"That's a lot of words," he said and burst out laughing.
I laughed too.
He then continued;
"My stomach's rumbling and I plan to grab a sandwich at a grill nearby. The place has a deck with spectacular views. Would you like to join?"
"Your friends?"
"They had a late lunch and won't eat until later. So you? Joining me?"
Seriously?! He's asking me out?!
"Ok! Thank you." I had mixed feelings but decided to give it a shot.
We walked to the grill and ordered sandwiches and a few drinks. He talked about all the things he loved, his family, his job as a marketing executive, his dog…. I found it underwhelming to talk about myself and preferred listening to him for the most part.
Time just trickled by and it was almost 10 pm.
"I need to go, Jared. Your friends must be waiting for you too," I said.  I didn't want him to feel compelled to stay with me.
"Wow! Just checked my watch. Let me walk you to your place."
As we walked, his fingers brushed against my hand and he held them. I felt a wave of desire running across my body.
Upon reaching the villa I unlocked the door. My friends were not back yet.
"Jared, I had a lovely time with you."  I looked straight into his eyes.
"Me too. April,  you are beautiful and sweet." The heat between us was palpable.
"Thank you. You are young, handsome, and a sweet person. Take care."
The next moment he embraced me and planted a gentle kiss on my lips. I felt numb.
I then whispered, "Jared, I'm older and grossly disinteresting in many ways. Don't ruin your night."
"April, stop feeling insecure. You are beautiful just the way you are. I see you underneath everything that you are concerned about. You are hot."
His lips then traced along the nape of my neck and whispered endearments. I was unable to resist. He took me inside, and as he undressed me I could feel my racing heart. I shed all my layers of inhibition. As his fingers caressed me I moaned with delight. Our bodies then resonated alongside the dulcet sound of the ocean waves with ecstacy. After that, I snuggled close to him and spoke for a long time before falling asleep.
The next morning when I woke up he was not beside me. He had left a note.
Dear April,
You are a beautiful woman. Though I've known you only for a short time I mean it! You deserve to be loved. Most importantly, love yourself. I didn't feel like waking you up. Gotto go. Stay beautiful.
Jared
I smiled. One might call it a casual fling but Jared made me see myself.  Some people make a special appearance in our lives just to give a reality check and help us in discovering our forgotten selves.
I headed towards the mirror and glanced at my reflection without any discomfort—after a long time.
April! You are beautiful.
***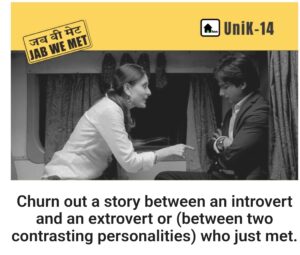 Picture Credit: Pixabay
This was a winning entry.